Desktop

Mobile

Visual Portfolio Desktop
Visual Portfolio Mobile
Feast@Home – Sukiyaki Hot Pot In Style
Available until 31 Aug 2022
Enjoy a heart-warming feast at home with your loved ones gathered around a simmering pot of Sliced Beef Short Ribs or Sliced Kagoshima Pork Belly and Japanese Scallops with a rainbow of vegetables delivered to your door in a Japanese-style hot pot! Perfect for the long chilly evenings, this comforting set complete with a Homemade Sukiyaki Broth following a secret recipe by Chef Edwin Tang – award-winning Chef de Cuisine of MICHELIN-recommended Cuisine Cuisine at The Mira – comes with a complimentary bottle of sake and a set of sake cups.
Set for 2 Guests HK$788 net
Set for 4 Guests HK$1,588 net
Set for 6 Guests HK$2,288 net
The above prices are inclusive of 10% service charge.
Please order at least 1 day ahead for next-day delivery / pick-up available from 12pm – 8pm.
Delivery Charges: HK$200 Kowloon / HK$250 Hong Kong Island / HK$300 Other Locations
Same day delivery available only for direct orders made via WhatsApp, placed before 12 noon.
For enquiries or enquiry, please contact us on +852 2315 5688 or

+852 9806 1166
you may also like

Tantalize your taste-buds in The Year Of The Tiger with an auspicious feast of harmoniously balanced Yellow Chicken with Cordyceps Flower Hot Pot with Matsutake and Pork Dumpling next to African Abalone Seafood Hot Pot with Japanese Mushroom and Pork Knuckle delivered in a Yin-Yang stainless steel cooking pot! It's a rewarding family meal ensuring an equal dose of immune-boosting properties of precious mushroom and nutritious qualities of dried seafood mixed with home-made oyster sauce symbolic of abundance, wealth and longevity!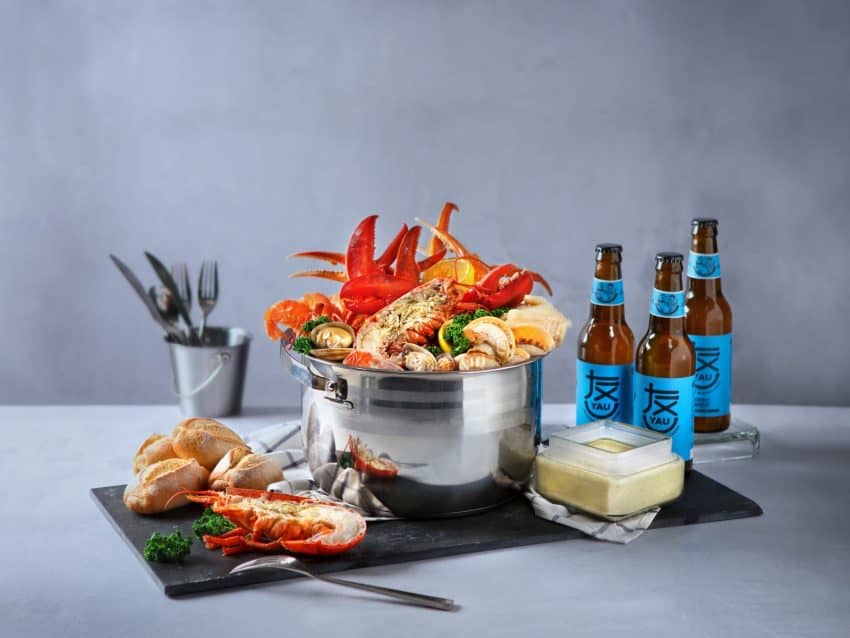 Inspired by the traditional Pun Choi – the supersized bowl of banquet gourmet is now available from HK$620 net for 2 only! Handcrafted by a team of culinary experts with a Western Spin – from the freshness of the sea including lobster, scallops, clams to the carnivores' favourites such as wings, sausages and more – Scoop & Savour to make social distancing your perfect moments to share savory treats with your loved ones in the comfort of your own home! And don't forget to say CHEERS with your bottle of beer or a can of soft drinks on the house!
Please add detail page content above and do NOT remove the "Page Break" block below!