Desktop

Mobile

Visual Portfolio Desktop
Visual Portfolio Mobile
Dainty Afternoon Tea Buffet
Available on every Sat & Sun from 8 Oct, 3:30PM – 5:45PM

Mira Plus Members enjoy 25% off
Every weekend it's tea o'clock at Yamm which pays homage to the revered British culinary tradition eagerly adopted around the world. But why limit yourself to a classic 3-tier platter of sweets and mini savouries when you can enjoy unlimited servings of your favourite finger foods and desserts? Weekend afternoon tea buffet at Yamm is a fun family affair for those with ravenous appetites and the puckish ones! Come and indulge in signature buttery scones with artisan jams, home-made desserts, freshly baked pastries and local delights such as Pineapple Buns and Macau Egg Tarts!
HK$308 (Adult) / HK$188 (Child)
Advance booking is required. Prices are subject to 10% service charge.
Offer is not applicable for cash vouchers.
Desktop

Mobile

4 Themes to Follow Your Food Mood
Yamm's afternoon tea buffet is an abundant mix of Western and Eastern Buffet with traditional sandwiches, a medley of assorted cakes, and an open kitchen theatre with engaging cooking stations serving delicious, freshly made regional Asian specials including sushi, flavorful Thai speciality dishes, fried Chinese noodles and dim sum baskets with recognisable picks.

A highly popular afternoon tea buffet in Tsim Sha Tsui, Yamm's tea buffet follows a rotating schedule of four weekly lunch buffet themes ranging from Chinese specials of Beijing, Shanghai and Sichuan provinces to Singaporean and Taiwanese street food staples, sumptuous Seafood theme, and even Viet & Thai Hawker's Delights.
Desktop

Mobile

Embrace the Sweet Side
Regardless of the theme of the savoury side, each spread offers all-you-can-eat bite-size desserts and pastries from mini cupcakes and crispy chocolate cookies, to Caramelised Croissants, Pain au Chocolat, and iconic truffle scones with raisins fresh from the oven served with silky clotted cream and selection of homemade jams your kids will love.

Hong Kong foodies will be delighted to find local specials such as Bean Curd Pudding, Serradura and creamy Macau Egg Tarts!
Tea Buffet Highlights
Jing-Chuan-Hu

White Clams with Sesame & Chili Oil
Braised Pork Mince Balls with Oyster Sauce
Szechuan Style Dan Dan Noodles
Steamed Shrimp & Pork Wonton, Chicken and Jinhua Ham in Chicken Broth
Stir-fried Crayfish with Pepper and Spicy Sauce
Bird's Nest with Papaya and Snow Fungus Sweet Soup

Seafood

Mediterranean style Baked Whole Sea Bass
Crispy Deep-fried Capelin
Mussels in Spicy Wine Sauce
Baked Lobster Claws in Cheese and Butter Sauce
Seafood Laksa
Bird's Nest with Papaya and Snow Fungus Sweet Soup
Viet & Thai

Thai Style Pandan Pancake
Chicken Satay
Khao Man Gai (Thai Chicken Rice)
Vietnamese Pho – Beef Noodles
Pan-Fried Pepper Shrimp Cake
Bird's Nest with Papaya and Snow Fungus Sweet Soup

Singaporean & Taiwanese Staples

Roasted Baby Spare Rib
Camphor Duck
Taiwanese Oyster Omelet
Curry Chicken Skewers
Taiwanese Beef Noodle
Bird's Nest with Papaya and Snow Fungus sweet Soup
you may also like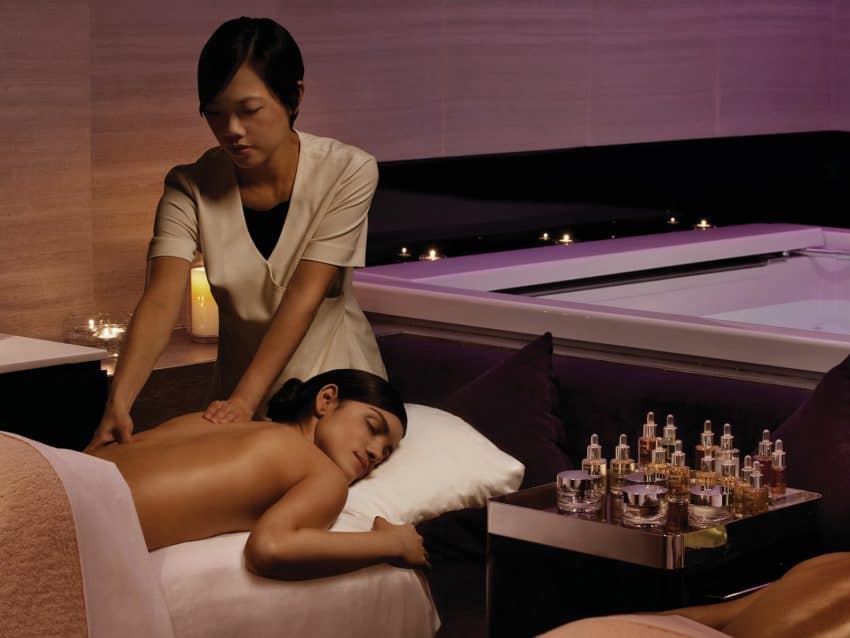 What could be nicer than a relaxing day of spa pampering combined with a sweet treat? Ignite your senses with unlimited access to wellness facilities and gym, take a plunge in the pool, and succumb to one of our signature massages, before you finish off the day with a delicious afternoon tea set at COCO!
Please add detail page content above and do NOT remove the "Page Break" block below!